HISTORY
On January 19, 1904, Reverend Robert Perry Smith opened the doors of Mountain Orphanage-a little four-room cabin in the Crab Tree community of Haywood County, NC.
Smith (Spartanburg County, SC, March 24, 1851 – Asheville, NC, Feb. 4, 1936) who was described "as a poor and fatherless lad of twelve years working hard to help his widowed mother in the support of the younger children," was an accomplished man. After completing four years at Davidson College, he attended the Columbia Theological Seminary in Columbia, SC and later served as the 2nd President of Presbyterian College in Clinton, SC (1885-1887).
He came to the mountains of Western North Carolina in 1888 to serve as pastor of Gastonia Presbyterian Church. In 1898, he became the Superintendent of Home Mission Work in the Presbytery of Asheville and served in that role for 33 years. The orphanage he organized in 1904 continues today as the Black Mountain Home for Children, Youth & Families in Black Mountain, NC, where orphaned, abandoned and abused youngsters are cared for in a loving, home-style environment.
His dedication to building a church presence in rural areas earned him the name, "Shepherd of the Hills."
Smith married Ella Louise Reid (July 4, 1853 – Jan. 3, 1934), the daughter of his pastor, Rev. Robert H. Reid, of whom Reidville, SC is named. In 1923, their children were listed as Mrs. T.A. Walker of Charlotte, NC; Dr. Bernard R. Smith of Asheville, NC; and Julia Bedinger, wife of Rev. Dr. Robert D. Bedinger, missionary to Africa.
Following Smith's death in 1936, R. F. Campbell, pastor of First Presbyterian Church Asheville, said, "He traveled through the valleys and over the mountains and far back into the coves, by all sorts of transportation, in buggies, in wagons, on horseback and mule back, with or without saddle, and often on foot."
Throughout those travels, Smith found children orphaned and abandoned trying to eke out an existence in the rocky ground. He decided to meet the desperate need of the children by forming Mountain Orphanage with the help of the Asheville Presbytery. Smith and a local teacher, Lucy Smith Hare, rode out on horseback to find orphaned children and bring them to the little cabin. Hare later wrote, "Dr. Smith told me I must, 'Get a gentle nag and ride in the hills and get the children to come to my school.' I did so and never feared to go into the wooded parts."
The Presbytery assisted the operation of the orphanage with $20 a month–$10 served as salary for the housemother and another $10 went to meeting the needs of the children in care. The Presbytery's funding was supplemented by donations from individuals. The first individual donation was given in April 1904 by Hazel Johnson. Only a child herself, she gave Smith 13 pennies to support his vision.
Within five years the small orphanage was overflowing with 14 children and many more on a waiting list. It was time to expand.
In 1910, Mountain Orphanage moved to the Balfour Community of Henderson County. The original site was 10 acres given by W.H. Spence, with an additional 22 acres purchased in the fall of 1910. In the December 1910 issue of "Our Mountain Work," a publication of the Asheville Presbytery, Mr. and Mrs. A.H. Temple wrote about the work going on at the orphanage. "The Mountain Orphanage is doing a work that has been sorely neglected heretofore. A few persons seeing the great need commenced this enterprise in a quiet, modest way. It has made friends and is steadily growing in efficiency."
The Temples went on to write that the increased acreage allowed the children–now up to 40–to meet more of their own needs. They had pasturage for cows, had a truck farm, and canned much of the produce they raised. The workday for those in residence began at 5 a.m. with farm work, laundry, and wood chopping.
In 1909, $25 was raised to start an infirmary at the orphanage. There were 75 children at the home in 1917. Over the course of the next ten years, Mountain Orphanage began accepting "half-orphans," children who had one parent living who was unable or unwilling to care for the child. Again, the orphanage was bursting at the seams. A committee of the Presbytery began seeking a third site.
In 1922, the committee purchased a 135-acre tract of land near Black Mountain, NC-the current site of Black Mountain Home-and began building a fireproof building to house the children and staff. In 1923, they opened a sprawling brick orphanage set on a knoll overlooking the mountains.
In 1960, the name of the orphanage was changed to the Presbyterian Home for Children of Black Mountain, NC.
In the 1990s the children moved out of their dormitory-style building into individual family-style cottages. Today, the ministry serves youth from birth through college graduation through a variety of programs.
1863 – Robert Perry Smith is left fatherless at age 12 by the Civil War.
1898 – Dr. Smith, now a graduate of Columbia Theological Seminary and former President of Presbyterian College, becomes Superintendent of the Asheville Presbytery.
1904 – Hazel Johnson, only a child herself donates 13 pennies to Dr. Smith to start a ministry for orphaned children in Western North Carolina.
1904 – Dr. Smith founds Mountain Orphanage at Crab Tree (Haywood County), NC, for homeless orphans in the area. With his own money, Dr. Smith builds and furnishes a four-room, white and green cottage at a cost of $500.
1910 – Mountain Orphanage outgrows the Crab Tree location and 22 acres are purchased in the Balfour area of Hendersonville, NC. The Orphanage is home to 40 children.
1910 – The first Thanksgiving Shower raises $40.85 in cash and $101.00 in groceries.
1911 – Children of First Presbyterian Church of Asheville raise $25 to start an infirmary at the orphanage. The next year, the Scholarship fund starts with a $50 contribution.
1917 – Seventy-five children in residence. All children are "whole" orphans, having both parents deceased.
1920 – Dr. R.D. Beddinger becomes the Superintendent.
1923 – The Home once again outgrows its location, purchases 135 acres in the Swannanoa Valley near Black Mountain, and builds "modern, fire-proof" buildings.
1929 – Rev. J.H. Gruver is employed as superintendent at a salary of $2,500 per year, plus a house, lights, water, and fuel.
1936 – Dr. Smith dies at the age of 85. Dr. H.B. Dendy replaces him in leadership of the Home.
1944 – August 15, Dr. D.R. Freeman becomes Superintendent.
1947 – Dr. Harry Barkley is employed as Superintendent. The Home is incorporated in August and Dr. Dendy is named the first chairman of the board of trustees.
1958 – Donald C. McKenzie is employed as Superintendent. His tenure is the longest one in the organization's history.
1960 – Name changed officially to Presbyterian Home for Children of Black Mountain, NC, Inc.
1979 – A 75th anniversary celebration is held on campus.
1984 – "The Loving Way" campaign kicks off with the goal of raising $1.7 million for building improvements and the establishment of an endowment.
1993 – The Home is licensed by the North Carolina Department of Human Services, which allows the Home to accept children who are wards of the state. However, the Home remains a private agency.
1995 -Earl and Renee' Kreisa come as President and Associate Director of the Home.
1998 – The Home's children move out of the "modern fire-proof" dormitory built in 1923, and into four new family-style houses on campus. The children now live in a homes staffed by married couples with other boys and girls of varying ages.
2004 – The Home celebrates 100 years of caring for children and families in need.
2005 – Tom Campbell is hired as President following Rev. Kreisa's retirement.
2006 – The Home embarks on its "Second Century of Caring" campaign to raise $4.8 million-half to go to capital improvements including an Independent Living Apartment Building and half to grow the endowment.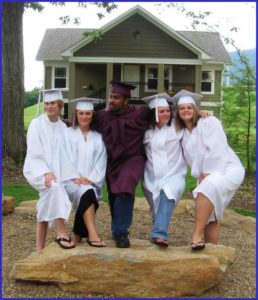 2008 – In December the Ray Campbell Independent Living Village is opened to provide housing and support for youth who have earned a high school diploma or GED and want to pursue a post secondary education.
2009 – The Home is licensed as a family foster care placing agency.
2011 – Name officially changed to Black Mountain Home for Children, Youth & Families to better represent the range of services offered.
2012 – Whitewater Cove, a satellite facility in Pisgah Forest, NC, is opened providing housing for up to six children in Transylvania County.
2015 – The Eller House, providing emergency foster care placement on campus, is dedicated.